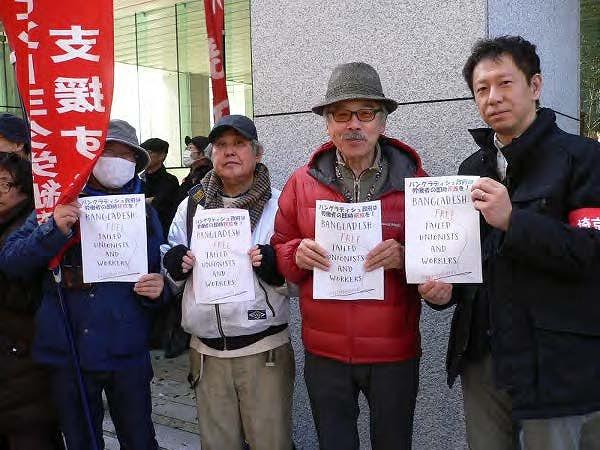 Last December,

tens of thousand garment workers in Ashulia, Bangladesh, went on a week-long strike seeking higher wages. In retaliation, the Bangladeshi government arrested 35 union activists and dismissed 1600 workers under the Emergency Act. The largest Global Union Federation, IndustriALL, has been supporting the Bangladeshi workers' struggle for their rights since the 2013 Lana Plaza building tragedy in which

1100 workers died. Since their affiliate members were arrested, IndustriALL is now calling

a Global Campaign on February 15th to 16th for the release of the arrested workers.
In Tokyo, a Day of Solidarity Action was held on the 17th February and photos were taken and sent to IndustriALL. (TONO Haruhi)
バングラデシュ労働者
35
人の釈放を求める国際フォトキャンペーン~
2.17
東京総行動
でも実施
昨年
12
月、バングラデシュの繊維産業の拠点であるアシュリアで、数万人の労働者が
賃上げをもとめて
1
週間のストライキにはいりましたが、この報復としてバングラデ
シュ政府は、非常事態法の下で組合活動家
35
人を逮捕・投獄し、
1600
人を解雇しまし
た。世界最大の国際労働団体・インダストリアルオール(
IndutriALL
)は、
2013
年に
1100
人の労働者が死亡したラナ・プラザビルの崩壊事件以来、バングラデシュの労働
者の人権をもとめて活動してきましたが、バングラデシュの傘下組合員が逮捕されて
いることもあり、
2
月
15
~
16
日に国際キャンペーンを実施することになりました。
17
日の東京総行動に参加するみなさんにも呼びかけ、写真キャンペーンを行いました。
(遠野はるひ)