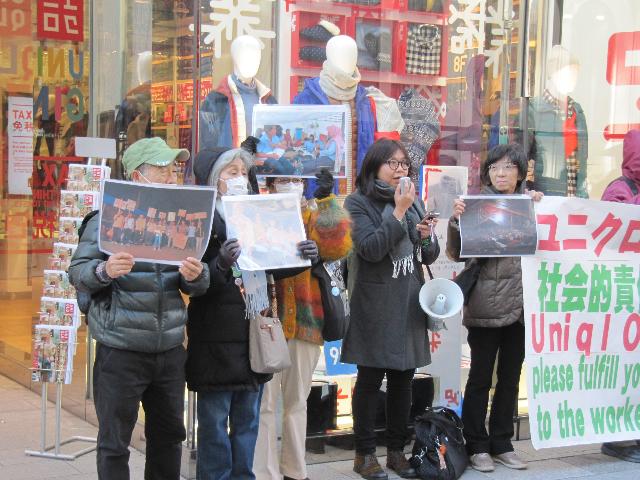 In April 2015, Jaba Garmindo in Indonesia, an apparel manufacturer in the Uniqlo supply chain, went bankrupt, and 4000 factory workers were fired without any payment of wages or retirement fee.

NGOs and consumer organizations including CCC (Clean Clothes Campaign) united globally and waged an anti-Uniqlo campaign, claiming that big buyers like Uniqlo are responsible for the bankruptcy, and that they should pay the workers unpaid wages. In the initial campaign in March this year, more than 20,000 signatures were sent to Uniqlo.

In order to expand the petition action to consumers in Asia, websites were opened in Indonesian, Chinese and Japanese languages, and the second campaign started on November 6.

On the day, workers fired by Jaba Garmindo staged a protest rally in front of a Uniqlo shop in Jakarta.

Ms.
Sheung So
, a coordinator of CCCA (Clean Clothes Campaign Eastern Asia), visited Japan from Hong Kong to extend the Uniqlo campaign and to let the CCC be known broadly.

Meetings were held on December 14(Thu) in Yokohama, and on December 17 (Sun) in Tokyo, in which she reported the reality of the factory workers in the Uniqlo supply chain. (T)
Photo: Sheung So in front of a Uniqlo store in Ginza, Tokyo
ソ・ションさん(
CCCEA
)、ユニクロ・キャンペーンで来日ー横浜と東京で集会
ユニクロのインドネシアのサプライチェーン、ジャバガーミンド社が倒産し、
4000
人の労働者が給料・退職金が未払いのまま解雇されました。倒産にはユニクロなど大手バイヤーにも社会的責任がある、労働者への未払い金を支払うべきだというユニクロ・キャンペーンが、
CCC
(クリーン・クローズ・キャンペーン)をはじめとする世界の
NGO
・消費者団体が連携をとり進行中です。今年
3
月にスタートした第
1
弾のキャンペーンでは、すでに
2
万人の人からユニクロに署名が送られましたが、アジアの消費者にも署名運動を拡大しようと、インドネシア語、中国語、日本語ページができ、
11
月
6
日に第
2
弾のキャンペーンがスタートしました。この日、解雇されたジャバガーミンドの労働者は、ジャカルタのユニクロショップで抗議行動をおこないました。ユニクロ・キャンペーンを広め、
CCC
のことをもっと知ってもらおうと、
CCCEA
(クリーン・クローズ・キャンペーン東アジア)コーディネーターのソ・ションさんが香港から来日し、
12
月
14
日(木)に横浜で、
12
月
17
日(日)には東京で集会を開催しました。(
T
)