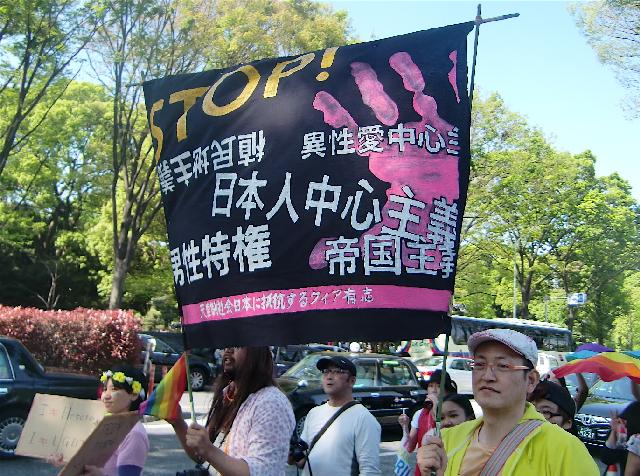 On a brilliant Sunday afternoon April 26th, two big parades were held in Tokyo's trendy district of Shibuya. LGBT and their supporters rallied at one of the two parades
——
the festive "Tokyo Rainbow Parade"
——
in their hopes to lead an ordinary life in a society free of any discrimination and prejudice. In their colorful clad, the people celebrated diversities with smile. Onlookers waved their hands in response to their calls. The signs held up read, "Tokyo No Hate" and "No Gender Segregation, No Androcentrism, No Imperialism."
The other parade, led by about 1,000, protested against the new giant multifunctional US military base in Henoko, Okinawa.
「NO! HATE」と「NO! WAR」がこだました一日~東京・渋谷でパレード
4 月26日快晴の日曜日、東京・渋谷で二つの大きなパレードがあった。ひとつは「東京レインボープライド」のパレードともうひとつは「沖縄辺野古に基地はい らない」サウンドパレード。東京レインボープライドは、LGBT(レズビアン・ゲイ・バイセクシュアル・トランジェスター)をはじめ、セクシュアリティ・ マイノリティーが差別や偏見なしに当たり前に生きることができる社会をめざす祝祭的パレードだ。午後1時に参加者が色とりどりの衣装で代々木公園を出発。 生と性の多様性を祝福しながら笑顔で歩き、沿道の人々もそれに手を振って応えていた。そのなかの「東京 NO HATE」の隊列からは性差別・男性中心・帝国主義反対を掲げるプラカードも見られた。(牧子嘉丸)