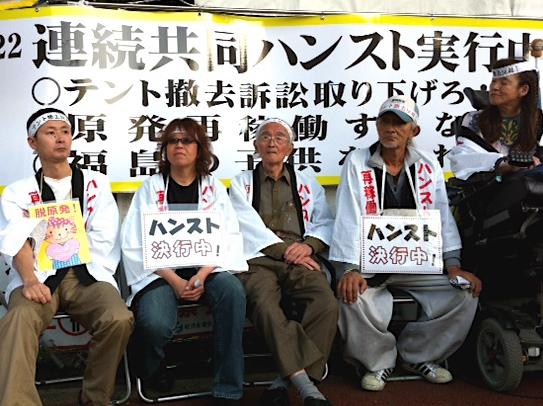 A hunger strike was launched at METI tent from May 16 to 22. Participants wearing a band that said,
"
We are against eviction of the tent!
"
and same jackets conducted a sit-in on Friday afternoon, May 17. During the regular streaming program, people on hunger strike said,
"
This is an important place for those who wish for no nuclear. We have to protect it,
"
during the interview.
The 82-year-old SAKUMA Tadao said,
"
I came around here every day during the struggles against the US-Japan Security Treaty in the 1960s. What
'
s impressive about this METI tent is individuals who are not members of any organizations come to join this movement against nuclear power unlike old times when unions and political parties mobilized their members. I
'
ve been involved in social movement for a long time, but I
'
ve never experienced something of this sort. I want to protect this place because the tent is the foundation of decent life.
"
(By M)
Photo:SAKUMA in the middle
「テントは人らしく生きるための基盤」~経産省前で抗議のハンスト続く
経 産省前テントひろばでは、5月16日から22日までの予定で、ハンガーストライキが始まった。17日の金曜日も「テント撤去反対!」のハチマキを付け、 ハッピを着た人たちが座り込んでいた。夕方からは「あおぞら放送」。番組の中でハンスト中の人たちにインタビューした。「ここは脱原発の人々が集う大事な 場所、守らなければ」と異口同音に語る。今年82歳の佐久間忠夫さんは「60年安保の時はこの辺には毎日デモで来た。テントの運動がすごいのは、当時は党 や労組など組織があってできたものだったが、今は組織とは関係のない一人ひとりが主体的に参加している。私も長年運動してきたが、初めての体験だった。テ ントは"人らしく生きるための基盤"であり、どうしても守りたい」と語っていた。(M) 写真速報・「あおぞら放送」アーカイブ・写真報告(笠原眞弓) 

*写真=ハンスト中の人たち(中央が佐久間忠夫さん)