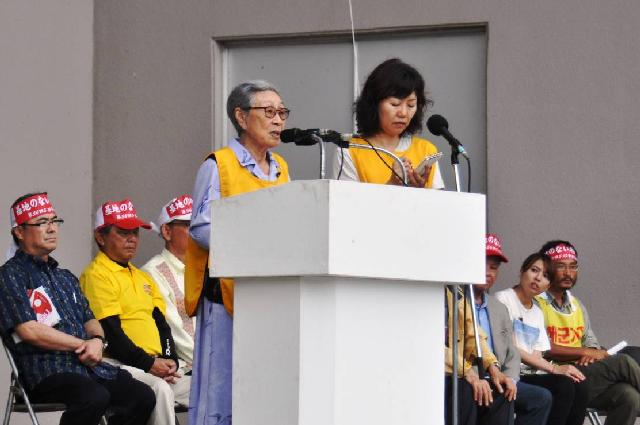 It'
s been 41 years since Okinawa was returned to Japan on May 15, 1972. Some 6,000 people joined the 36th Okinawa Peace March, while 3,500 people gathered at Ginowan Kaihin Park.
"
I want people to think about a little girl who could not bloom after suffering days as a sex slave,
"
Kim Bok-dong, 87, spoke to the crowd. She was forced to work as a "comfort woman" for Imperial Japanese Army.
"
I had to serve tens of soldiers a day from sun-up to sun-down for eight years. Do you know there was a girl who was forced to do this?
"
(By Shinya)
5.15

沖縄復帰41

年

平和行進と集会~元従軍慰安婦・金福童さんが静かな訴え
今 年は沖縄が日本に復帰をした

1972

年

5

月

15

日から

41

年が経つ。第

36

回沖縄平和行進には

6000

人が参加し、

5

月

19

日午後、会場の宜野湾海浜公園 野外劇場に東西南三コースの参加者

3500

人が結集した。「幼い少女が夢を咲かせることもできずに性奴隷にされたことを考えて欲しい」「朝か夕方まで、一 日に何十人もの兵士の相手しなければならなかった。そんな生活を八年強いられた。このような少女がいたことを皆さん知っていますか」元従軍慰安婦の金福童

(

キム ボクトン

)

さん(

87

歳

)

は静かに語りはじめた。(

Shinya

)
写真報告