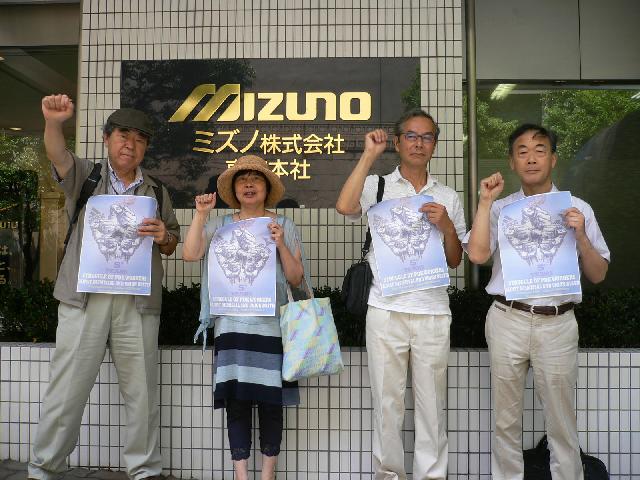 It's been five years since 1300 women workers at PDK, an Indonesian manufacturer of Mizuno brand sports shoes, were dismissed in July, 2012 for organizing a labor union and going on strike.

On July 12, 2012,
2000 workers went on a 5-day strike demanding better working conditions and reinstatement of the union president who had been unfairly dismissed. 1300 workers were dismissed on July 18 out of which 346 have been continuing their struggle against PDK as members of the PDK union while working for other suppliers of international brands.
In response to the call from GSBI, the superior body of the PDK union, for solidarity actions with their campaign to mark the fifth anniversary of the struggle, some citizens of

Japan visited the Indonesian Embassy and the main office of Mizuno in Tokyo on July 19 to hand in letters demanding for an early fair solution co-signed by 6 organizations and 32 individuals. At the Mizuno HQs, two managers received the letter outside the office building to whom the PDK union supporters explained recent situations of dismissed workers and the contents of the ILO recommendation of November 2016 that requested the Indonesian government to investigate the case.
On July 20, Mizuno reiterated their former stance in their reply to the open letter from the Clean Clothes Campaign and stated that they were not in a position to comment on the ILO recommendation. CCC's open letter, dated July 18, questioned the earlier investigation into the case by Mizuno that concluded PDK had not violated the Indonesian labor law.
(TONO Haruhi, Yokohama Action Research)
Photo: Solidarity action in front of Mizuno HQ
 ミズノブランドの靴を製造していたインドネシアのサプライチェーン・PDK社で、女性労働者たちが組合を結成し労働条件の向上のためにストライキを行った結果、2012年7月に1300人が大量解雇されたこと、日本でも2017年10月にミズノ東京本社前で要請行動を実施したことはすでに報告した。
 7月15日、突然、インドネシアのPDK労組の上部団体・GSBIよりメールが届いた。内容はPDK争議の5周年にあたる7月12日から18日まで、アディダスとミズノをターゲットに国内キャンペーンを実施しているので、海外でも共同要請文に署名し、キャンペーンに参加してほしいというものだった。最終日の18日には抗議行動を実施する予定だという。

 7月15日にキャンペーン参加の要請を受けた日本の私たちは、ミズノとインドネシア政府への共同要請文の署名団体・個人を募ったところ、2日間で6団体、32人の個人の署名が集まり、7月19日に5人でインドネシア大使館とミズノ東京本社に英文の要請文を届けた。インドネシア大使館では、政治部か経済部のどちらの部署が共同要請文を受け取るか決めていないので、とりあえず窓口で受けとることになった。ミズノ東京本社前では2人の管理職が待ち受けていたので、共同要請文を渡すとともにPDK労働者の現状とILO勧告の内容を説明して早期の解決をもとめた。この私たちのささやかな国際連帯へPDK労組のココム委員長から謝辞が届いた。
ミズノからのキャンペーンへの応答は、7月20日、CCCの公開書簡への返事という形で発表され、ミズノは自分たちの対応は変わらないしILO勧告へはコメントする立場ではないと断言した。東京オリンピックが3年後にせまった今、サプライチェーンの問題はさらに大きくとりあげられるようになるだろう。
 ミズノのみなさん、私たちはあきらめません!(遠野はるひ 横浜アクションリサーチ)