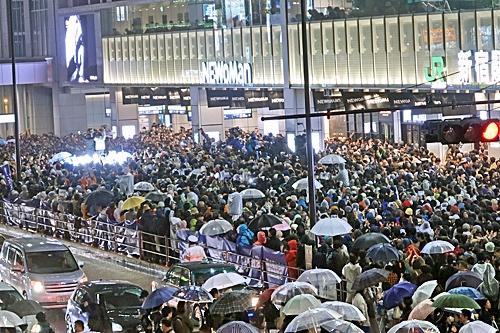 On October 21st, the final day of this year's lower house election, 8,000 people packed the south exit of Shinjuku station for a campaign rally hosted by the
newly formed Constitutional Democratic Party of Japan (CDP). Within a month after Prime Minister SHINZO Abe called for a snap election, Kibo no To (Party of Hope) was founded and the Democratic Party of Japan (DPJ) split.
Opposition parties in favor of protecting the constitution were inevitably faced with confusion—however, EDANO Yukio decided to create the
CDP shortly thereafter. As a result, DPJ members, who once leaned towards joining the Party of Hope, banded together with the CDP, making possible a nationwide campaign that unifies the opposition and its supporters under one candidate in each district. "
As someone who opposes the security reforms and has called on the people to fight against them, there's no way I could have joined the Party of Hope," said
FUKUYAMA Tetsuro, a member of the upper house who became secretary-general of the CDP. "The reason I am here is because of all the people who have backed me up," EDANO Yukio, head of CDP, said firmly. "Let's make tomorrow our starting point and fight together." The much anticipated election day is October 22nd.
(
YUMOTO Masanori
)
立憲民主党「東京大作戦ファイナル」に
8000
人~新宿南口を埋め尽くす
10月21日、衆議院選挙最終日、新宿駅南口で「東京大作戦ファイナル」が開催され、8000人が集まり新宿駅南口は聴衆で埋め尽くされた。衆議院解散からまだ1か月たっていない。その間、希望の党の結党で民進党は分裂。立憲野党側は混乱を余儀なくされた。しかし、その後枝野幸男さんが「立憲民主党」の結党を決意。その結果、一度は希望の党に流れた民進党員が立憲民主党に合流し、市民と野党の統一候補を擁立できる選挙が、全国的に展開できることとなった。同党幹事長となった参議院議員福山哲郎さんは、「安保法制に反対し、これから安保法廃止に向け一緒に闘いましょうと言った私が、希望の党に行けるわけがありません」と発言。枝野幸男代表は、「ここまでやってこれたのは、私の背中をおしてくれた皆さんのおかげ、明日を出発点にし一緒に闘いましょう」と力強く発言した。いよいよ
22
日、投票日を迎える。(湯本雅典)