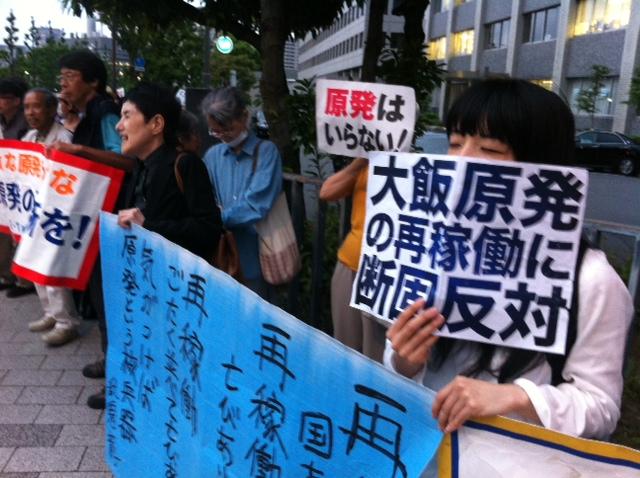 "
Don
'
t decide by yourself, PM Noda!
"
About 200 people joined the urgent action at Prime Minister
'
s Office on May 31, when the Cabinet ministers
'
meeting was held. People wore tense, angry expressions on their faces as the prime minister was threatening to restart Oi Nuclear Power Plant.
"
We cannot let the four ministers ignore our calls. We cannot give up now. We must raise our voices together with people of Fukui Prefecture and let the prime minister hear them,
"
said SUGIHARA Koji, one of the action organizers. Aside of Noda, Minister of State for Nuclear Power Policy and Administration HOSONO Goshi, Minister of Economy, Trade and Industry EDANO Yukio and Chief Cabinet Secretary FUJIMURA Osamu attended the meeting.
"
Considering the safety alone, Oi plant should not be restarted,
"
YANAGIDA Makoto of No Nukes Plaza
"
Tanpopo-sha
"
said of Oi plant, which has no vent systems or earthquake-resistant management facilities.
"
The two-week period from today is very important. Believe in our power that drove all 50 nuclear power plants to suspension. Let
'
s put all our hearts into this action.
"
Yanagida called for joint actions planned at nuclear plants in Fukui and Ehime prefectures, which are threatened for restart. (By M)
私たちの力を信じて全力尽くそう
!
~大飯再稼動反対で官邸前緊急アクション
「野 田首相、勝手に決めるな!」。大飯原発再稼動に大きく政府が動く中、
5
月
31
日夜、「閣僚会議に抗議!官邸前緊急アクション」が行われ約
200
人が参加し た(写真)。参加者の表情は険しかった。主催者の杉原浩司さんは「
4
閣僚の暴挙は許せない。ここであきらめるわけにはいかない。福井現地と連携して、官邸 にきちんと声をぶつけていこう」と訴えた。たんぽぽ舎の柳田真さんは「大飯原発には免震重要棟もベントもない。安全面だけでも再稼動はまったくおかしい。 これからの
2
週間が大事だ。これまで
50
基の原発を止めてきた私たちの力を信じて、全力をつくそう」と語り、福井(
6/3
)・伊方(
6/10
)の現地結集 や様々な行動への参加を訴えた。(М)