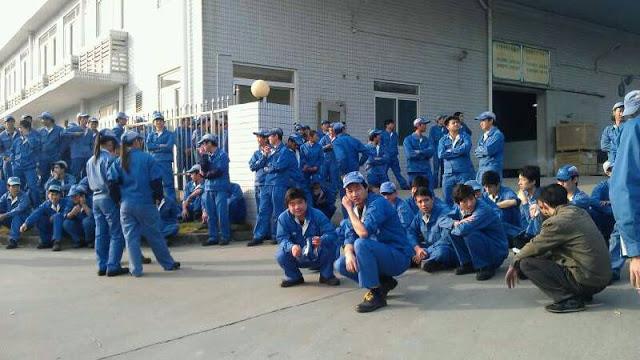 Ahead of Chinese New Year celebration to take place on Feb. 10, China has seen outbreaks of disputes over wages and bonuses. Workers at Tokai Rubber Industries, which is headquartered in Komaki City, Aichi Prefecture in Japan, went on strike on Jan. 28 in protest against reduction of year-end bonus. Police mobilized to break up the protest led to violence against the workers and to some arrests. A subsidiary of Japan's Sumitomo Group, which was established in 2003, manufactures anti-vibration hoses and rubber for automobiles. More than 1,000 people work at the company.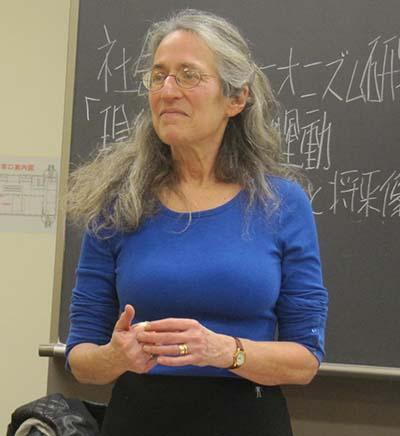 The strike at Tokai Rubber is just another worker
resistance
in China, according to
Ellen David Friedman of
Sun Yat-sen University
. The expert in China Labor visited Japan in January to give a lecture on resistance of China's workers and what it means to the labor activists around the world. The lecture at Meiji University talked about two important struggles in China: One was a protest against privatization of state-owned enterprise, Tonghua Steel in July, 2009; The other was a strike at transmission manufacturing plant of Honda Motor Corp. in May, 2010. Police was mobilized to break up the protest at Honda factory, but student interns, who were the workers there, resisted for two weeks, which led to cessation of the entire production at Honda plants in China. Workers prevailed to double the wages and rights to vote their worker representatives. The struggle, in the end, triggered an outbreak of strikes throughout China, David Friedman said.
(By Labornet International Division and TAKAHEI Masahito)
Photo=Workers on strike,
ustreamof the lecture)
中国:東海ゴム工業
広州工場ストライキ労働者に警官隊が暴行
中
国では
2
月
10
日の春節(旧正月)をまえに、年末一時金や未払い賃金などを巡る争議が多発しているようです。愛知県小牧市に本社のある東海ゴム工業株式会
社の広州経済技術開発区の現地工場でも、年末賞与が削減されることに抗議して
28
日からストライキに入っています。敷地内に多数の警官隊が動員され、労働
者に暴行し、逮捕者も出ています。広州東海ゴムは、日本の住友グループ参加の企業で、
2003
年に設立され、自動車用防振ゴムホースなどを製造。現在、
1000
人以上の労働者が働いています。
1
月
19
日
(
土
)
午後、東京・お茶の水の明治大学でエレン・デービッド・フリードマンさん(写真
/
中国広州・中山大学客員研究員)を講師に「現代中国の労働
運動
その実像、虚像と将来像」と題する研究会が開かれ、約
40
名が参加した。フリードマンさんは最近の中国労働運動を特徴づける2つの争議を紹介した。1つは
2009
年
7
月に東北部にある通化鋼鉄で国有企業の民営化に労働者が反対して企業を買収しょうとした資本家を撲殺した事件である。もう1つは
2010
年
5
月に広東省のホンダのトランスミッション製造工場で起こったストライキである。ストライキの妨害に労働組合の黄色の帽子をかぶった警察官が動員され、学生
たちを排除しようとしたがストライキを止められず
2
週間続いた。このストによってホンダの中国における全生産が止まった。この工場の労働者は賃金の倍増を
勝ち取り、組合役員を選出する権利も獲得した。この闘争をきっかけにストライキは全国に広がった。
(レイバーネット国際部・

高幣真公)