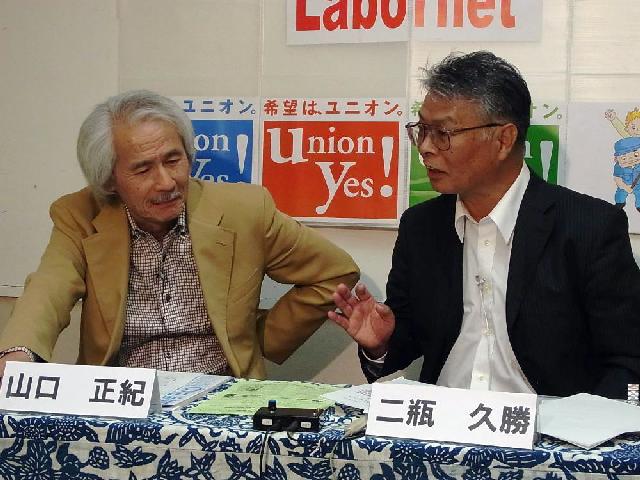 "
The revision of the Japanese Constitution that Prime Minister Abe aims at is to keep workers and citizens from being resistant for war efforts
"
.
This is a comment of YAMAGUCHI Masanori, a journalist, and NIHEI Hisakatsu, the former chairperson of the Joint Struggle Congress against the Unlawful Dismissal of Former National Railways Workers, in the LaborNet TV program on May 9, 2013. According to them, there are three points in Abe
'
s policies, which are (1) Denial of the right to organize of public servants, (2) Suppression of freedom of expression, and (3) Change of war-renouncing Article 9 of the Constitution for the worse and the denial of pacifism. Yamaguchi pointed out,
"
LaborNet TV will be repressed once identified as being contrary to the public interest. Also, it will be impossible to hold the anti-nuke demonstration currently held in front of the Prime Minister
'
s Office
"
.
The two commentators stressed that the media are even supporting the wrong direction of the administration. They called for a wide-range bipartisan movement against the
"
revision
"
of the Constitution. In addition, two schoolteachers who are resisting the coercion of the controversial
"
Kimigayo
"
national anthem of Japan also talked about the current dangerous situation in the program. After the program, some viewers said,
"
Today
'
s discussion made us recognize how bad the revision of the Constitution will be. We have to do something
"
. (M)
恐ろしい近未来が見えてきた!~レイバーネット
TV
で改憲特集
「安倍改憲は、労働者市民の抵抗力を奪って戦争のできる国にすること」。
5
月
9
日、レイバーネット
TV
で対談した山口正紀さん・二瓶久勝さんは、安倍政権の改
憲の狙いを鋭く、かつわかりやすく語った。ポイントは
3
つで、(
1
)公務員労働
者の団結権否定(
2
)表現の自由の抑圧(
3
)九条改悪・平和主義の否定、である。
山口さんは「レイバーネット
TV
も公益に反すると認定されたら弾圧されてしまう。
官邸前デモもできなくなる」と危機感を募らせる。二人が強調したのは、マスコ
ミが安倍改憲暴走にチェックをかけるどころか尻馬に乗っていること。そして
「党派を超えた幅広い改憲反対運動をつくっていこう」と呼びかけた。また番組
には、改憲先取りの「君が代」強制に抵抗している二人の教員が出演し、思いを
語った。放送終了後の二次会では「対談と教員の生の声を聞いて、恐ろしい日本
の近未来が見えてきた。何とかしなくては」との声があった。(
M
)
写真