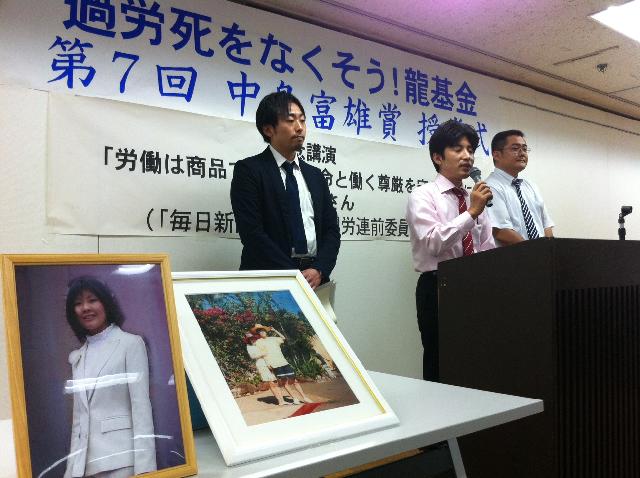 The 7th award ceremony of the NAKAJIMA Tomio Prize presented by the Ryu Foundation for No More Karoshi was held in Tokyo on August 4 with 146 attendees. An increasing number of people have become interested in the karoshi suicide case at the Watami izakaya pub chain in 2008 upon the recent election of its founder and ex-president WATANABE Miki to the House of Councillors, said the organizer that received far more people than expected.

The winners of this year were three reporters of major daily newspapers, NAKAZAWA Makoto and MINAGAWA Tsuyoshi of Tokyo Shimbun and ONOGI Yasuo of Sankei Shimbun, who have been actively reporting on the karoshi issue for years. "By interviewing young managers of Watami pubs who are mostly in their 20s, I have found that they believe in the business principles that WATANABE Miki advocates. They take hard work and extraordinarily long working hours as training that facilitate advancement both as business persons and as individuals. I will give my best to go beyond writing outsider's criticism on 'black' corporations and produce reports that will move the hearts of these young people," said Minagawa in his acceptance speech. (By M)

Photos
* Photo: The award winning reporters with photos of karoshi victims.
過労死問題を追及するマスコミ記者を表彰~第
7
回中島富雄賞授賞式
8
月
4
日「過労死をなくそう!龍基金・第
7
回中島富雄賞授賞式」が、東京・すみだ産業会館ホールで開催された。参加者は主催者の予想をはるかに上回る
146
人。「渡邉美樹参院立候補などワタミ問題への関心が広がっている反映」と主催者をみている。今回受賞したのは、過労死問題を粘り強く追いかけて報道している『東京新聞』中沢誠記者と皆川剛記者、『産経新聞』の小野木康雄記者の
3
人だった。挨拶に立った皆川記者は「取材でわかったことは、ワタミの店長は
20
代と若く渡邉美樹の理念に共感していること。長時間やキツイ労働も自分が成長するための
"
修行
"
と思っている。ただ外からブラック企業と批判するだけでなく、この人たちの心にも響く報道をしていきたい」と述べた。(
M
)
写真速報
 *写真=受賞後挨拶する
3
人の記者。手前は過労死で亡くなった人の写真。