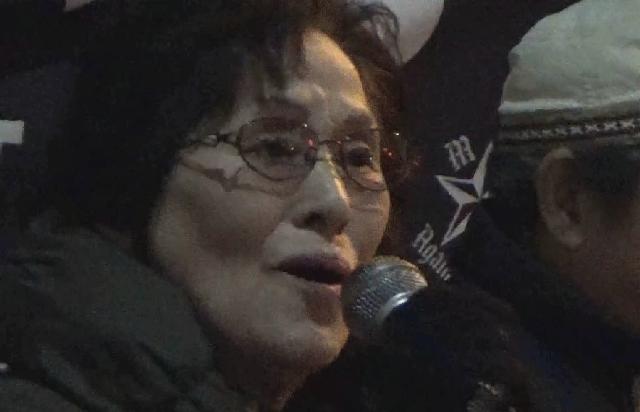 On January 12, this year's second Friday Action against the restart of nuclear power plants was held in front of the Office of the Prime Minister. KAMEYA Sachiko (photo), an evacuee from Futaba Town in Fukushima Prefecture, close to the crippled Fukushima Daiichi Nuclear Power Plant, said that 197 persons are currently suffering from thyroid cancer and recently seven children had metastases to their lungs. The situation has become so serious in just seven years since the nuclear disaster. Then, a woman from Saitama criticized the prefectural assembly dominated by the major Liberal Democratic Party for its adoption of the
"Statement to promote the restart of nuclear power plants".
Another speaker from Saitama told the participants how ridiculous the adoption of the statement was by explaining the deliberation in the assembly .
Another participant read a headline of a comment of a high school student in a newspaper, "Humans are powerless before radioactivity", and finally demanded, "Abe (Japan's Prime Minister) resign!" (KINOSHITA Masaaki)
「肺に転移した子どもが
7
人も」〜金曜行動で福島の亀屋幸子さん
1
月
12
日金曜日。双葉町からの避難者の亀屋幸子さん(写真)は福島での甲状腺がんは現在
197
人で、「今度は肺に転移した子どもが
7
人出ました」と訴えたが、
7
年でそこまできたのか!と驚かされた。その後、埼玉からきた女性は、埼玉県議会が「原発再稼働を求める意見書」を採択するという
、

とんでもないことをやっていると訴えた。いつもタイコを叩いている人が行列の中から、高校生の新聞投稿「放射能の前で人間無力」を読み上げた。最後に「時代おくれのアベはヤメロー!」と締めくくった。国会正門前でスピーチに立った山岡さんも、埼玉の議会採択をとり上げその議会の進行がどんな状況だったかを明かした。(木下昌明)